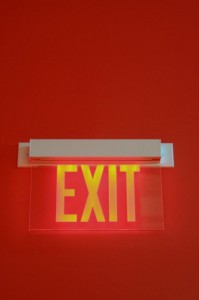 If you were sitting in a movie theater and somebody yelled "Fire!", would you run into the bathroom? Would you run into the projector room? Would you head for the supply closet? Probably not. My guess is, if someone sounded the alarm and you smelled smoke, you would run toward the EXIT sign. There's usually a door right next to the screen, and the answer to your prayers is spelled out for you clear as day: E-X-I-T. This is the way out. This is the way to safety.
Now, what if the person you are with really, really wants you to run toward the bathroom? What if they believe, with all passion and conviction, that the door to the bathroom is the door to safety? "Here's the a door!" they exclaim. "This is the way out!"
If you knew that the bathroom had no windows or other means of egress, would you follow them in? Again, probably not. Regardless of the person's passion, regardless of their conviction, that door just ain't gonna get you to safety. Quite the opposite. Sure, you'll leave the theater, but you will be trapped in another place and will likely burn to death. Not pretty.
It's nice to think that every door will get us to where we want to go. But, just because it's a door doesn't mean it's the right door. Sadly, this analogy illustrates the backward thinking of millions of Americans. In fact, a recent survey of more than 35,000 adults found that the majority believe more than one religion can lead to heaven. Remarkably, of those participants who attend an evangelical Christian church, more than half stated that belief in Christ is not the only way to eternal life. [Read more →]
June 23, 2008 2 Comments
Over Memorial Day Weekend, I had the pleasure of meeting Martin and Kim Dale, longtime friends of my husband, Craig, and directors of Youth With a Mission (YWAM) in Houston, Texas. They were in town for a conference, and Craig was eager to get together, given that it had been more than ten years since he had seen them last. We rendezvous'd on Saturday afternoon at a lovely Greek cafe in north Dallas and spent some 90 minutes sharing stories over hummus and baklava. I left with a full belly and a humble heart.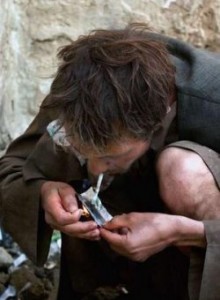 You see, Martin and Kim are passionate people. They have a genuine calling to help the kind of individuals whom many would look upon with disdain or dismiss as "hopeless". Specifically, YWAM Houston ministers to prostitutes, crack addicts, transexuals, drug dealers and gang members in an effort to rescue them from the streets and help them turn their lives around. They also train teens and young adults for ministry, equipping them with the skills and courage to enter the roughest inner city neighborhoods and offer assistance to anyone in need. The group is part of YWAM International, which currently operates in more than 1000 locations across 149 countries.
The Dales share the combined giftings of compassion and evangelism, and have dedicated their lives to reaching the lost. They also manage to do it in a way that's not preachy or self-righteous. If I say any more, that's exactly how I'm likely to come off, so I'll let the video do the talking.
Rescue those being led away to death; hold back those staggering toward slaughter. (Proverbs 24:11)
May 27, 2008 Comments Off on Martin Dale's Magic Pill