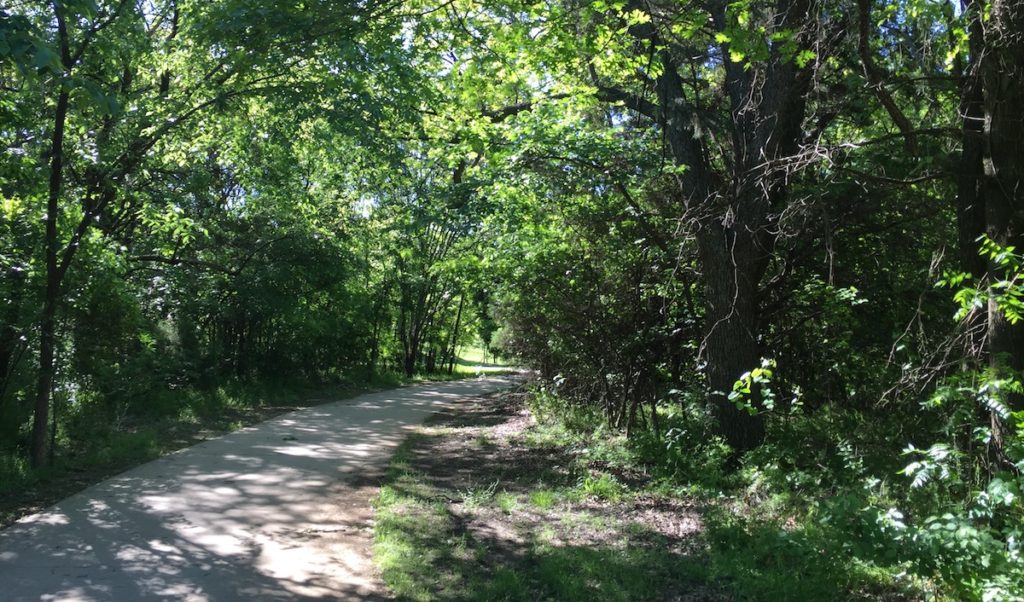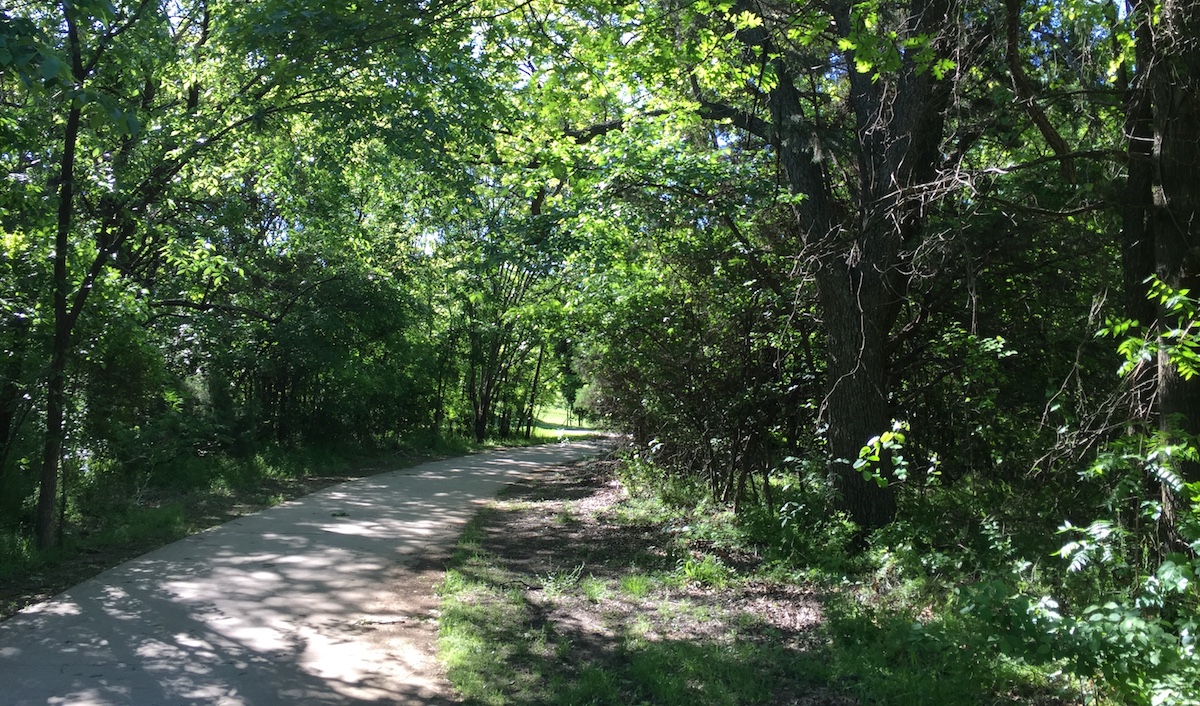 I was prepared for battle this morning. Sunglasses. Handkerchief. Cell phone fully charged. I expected pain. I expected warfare. I expected to revisit a place of suffering and toil.
Instead, I took a walk.
I knew I was going for a walk, of course. But, this was a meaningful walk, and the decision to go had been weighty. This morning was my first time walking to the park a half mile from our house—the park that Craig and I walked to together at least a dozen times in the weeks before he died last summer. The park where he sat on a bench in the shade and recorded a four-minute video in which he poured out his heart, begging viewers to stand strong against the lies of the enemy. A spirit of suicide was sweeping the nation, taking out notable figures like Kate Spade and Anthony Bourdain, along with thousands of teenagers and adults who had succumbed to depression. Craig was wrestling with it, as well, and our daily power walk was a weapon in his arsenal. Exercise releases endorphins, reducing the perception of pain. We had a plan. We could beat this.
Four weeks later, Craig lost the fight. And, I stopped going to the park.
I always loved to walk. I spent part of my youth in Germany and a decade in Manhattan; walking for me was a way of life. It felt as natural as breathing, and almost as necessary. The first year of our marriage, Craig and I took early morning walks around the golf course near our apartment complex, sharing thoughts and dreams as we became more closely knit as a couple. Walking was good exercise, but for me, it was about connection. Those walks fueled my love for my husband and refreshed my soul.
After we moved to our house, we rarely walked together. Occasionally, Craig would join me to take the dog around the block, or humor me by strolling through a street fair. I could trick him into walking when we went to Six Flags or traveled on vacation. But for the most part, walking was my thing, not his. So, I was pleasantly surprised last spring when he asked me for a suggested route to walk for 45 minutes. Two laps through the back alleys around our neighborhood and one time around the inner loop would do the trick, I replied, then realized just how mundane that path would be. Craig looked dismayed. "Or, you could walk to the park and do a loop around the trails. That's probably 45 minutes there and back," I said.
He set out the next morning on his own, returning home drenched in sweat. The following day, he was off again, strengthening muscles, building a routine. I was envious. After the first week, I asked whether I could join him. Sure, he said. What for him felt strenuous was for me pure bliss. Walking with my husband—my favorite person of all time. He stayed laser focused on keeping a brisk pace. I focused on speaking life over him, reminding him of his calling and God's promises. We were in the fight together, us against the world.
Do not be anxious about anything, but in every situation, by prayer and petition, with thanksgiving, make your requests known to God. And the peace of God, which transcends all understanding, will guard your hearts and minds in Christ Jesus.

Philippians 4:6-7 (NIV)
I thought about the park several times after Craig passed. How much I loved being out in nature, breathing the fresh air. I thought about keeping up the routine but always found an excuse. The late summer was too hot, I was traveling in the fall, and winter was cold and dreary.
But now, it's spring. Birds are chirping. Everything is green. I had nothing on my calendar. Today was the perfect day for a walk in the park.
I wore my sunglasses as I left the house, and the tears came quickly. They trickled down my cheeks as I turned left onto the main road. The first two blocks slope downhill, and gravity propelled me along. Dogs barked behind fences. A crow swooped low overhead. I sang softly to myself as I walked, settling my mind, picking up details. The world was in Technicolor.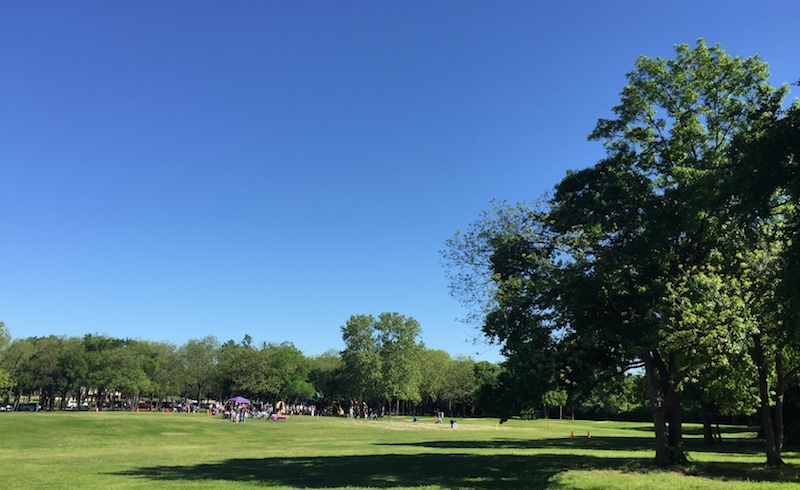 As I neared the park, I could see people gathered around a canopy tent by the tree line. Hundreds of plastic eggs were strewn across the grass nearby. Tomorrow is Easter Sunday, and families were there to celebrate. The children paced in anticipation, baskets at the ready, eyeing their bounty. They were waiting for permission to run. So was I.
I kept bracing for the pain, anticipating grief. But, it never came. Instead, I was captivated by the beautiful scenery and the bright sunshine and the cool breeze. The trails were empty, the atmosphere serene. I couldn't help myself—I was happy. Halfway around the loop, I decided to embrace the joy. What a spectacular morning. Perfect weather, and the perfect day for a walk. I wished Craig was with me, but I knew my Husband was there. Jesus was right by my side. How else could I explain the peace in my soul?
You will forget the shame of your youth and remember no more the reproach of your widowhood. For your Maker is your Husband–the Lord Almighty is His name

Isaiah 55:4b-5a
Whether I will make a walk to the park part of my daily routine remains to be seen. What I know for certain, however, is that I never walk alone. I am grateful for God's unfailing love, and for the comforting arms of my Savior. Jesus spent three days in the tomb—Scripture tells us that He was a man of sorrows and acquainted with grief. He is not afraid to walk with us through seasons of darkness. And, He walks us back out. The same Spirit that raised Jesus from the dead lives in me.
Today, I took a walk. Tomorrow is resurrection day.
---
For everything there is a season, and a time for every matter under heaven

Ecclesiastes 3:1
April 20, 2019 3 Comments
My husband and best friend — the man who led me to the Lord and who chased fearlessly after Jesus — died on July 6, 2018. His death was the culmination of a decades-long battle with depression. Contrary to popular opinion, depression is not a matter of "wrong thinking," but rather a mental illness that attacks organs of the body — in this case the brain — in much the same way that cancer does. And, like cancer, depression is a treatable disease that often can be managed with medication, changes in diet, counseling, and other methods. Craig fought depression with every fiber of his being, and he recorded a very powerful message about the battle in early June 2018, which he posted on Facebook here. 
Sadly, just like with cancer, depression can come out of remission and render the person helpless. Despite all their efforts and all the treatments, sometimes the disease wins. But, that is no more a reflection of a person's character than if they were to succumb to any other illness. It is time we removed the stigma and talked candidly about depression and suicide. Pastor Ryan Rainey did a brilliant job of addressing the issue at the opening of Craig's memorial service. You can view the full memorial service on Vimeo here. The video below is an excerpt of my portion, when Holy Spirit gave me the words and strength to share the message of love that God wants us to hear. The text version below omits a few parts that God threw in for good measure while I was speaking, so I hope you will watch the video, as well.
Eulogy for Craig Bennett Thompson
By Leslie J. Thompson
In Psalm 139:13 – 14, the Psalmist King David writes:
For You formed my inward parts; You wove me in my mother's womb. I will give thanks to You, for I am fearfully and wonderfully made.
Craig Thompson was custom made for me in every way.
We met in 2003, when he was already 38 years into his life's journey. It had not been an easy one. From the very beginning of our marriage, Craig was transparent with me about his struggles. He never hid his war wounds. But all I saw was an amazing man of God.
Craig was born in San Angelo, Texas and moved to Dallas as a child after his parents divorced. His father was an alcoholic, and his home environment was chaotic at best, traumatic at worst. Craig attended 12 different schools in 11 years, and dropped out of high school in the 11th grade after a guidance counselor told him that he didn't have enough credits to graduate on time. Three decades later, that judgment still weighed heavy on him
Which is incredibly ironic, because Craig is the most accomplished man I have ever met. After serving for six years in the United States Navy – which included three and a half years as a sumo wrestler to help build a cultural bridge between the U.S. and Japan – Craig worked as a private investigator and a hotel security manager, then ventured into the food & beverage industry before transitioning into software sales.
He left his last corporate job to pursue a lifelong dream of becoming a big band singer – because, you know, that's normal and all. And it was as Big T of Big T and the Bada-Bings that I first met him. Those of you who haven't heard the story of how God brought us together, catch me another time. It will rock your world, but it takes about ten minutes and we're on the clock.
Being married to Craig was the most thrilling adventure you could imagine. He was a consummate entrepreneur and we brought to life numerous business ventures he had conceived. We ran a retail store, started an insurance agency, launched two online television networks, then got into website design and mobile app development before diving head first into the drone world five years ago. Craig Thompson was a true Renaissance man.
But the most exhilarating part of all our many exploits was that Craig never met a stranger. He collected friendships every step of the way, and years later still remembered the details of peoples' lives. He was also a natural-born encourager. For all his antics and sometimes off-color sense of humor, Craig loved to make people feel valued. He loved to help people overcome life's challenges and know that they were worth the fight.
And the more Craig matured in his faith, the more he was able to minister to others. The more he walked with God, the more he showed humility – he was able to touch people deep in their heart and soul because he was transparent about the pain of his own journey. People are hungry for authenticity, and Craig loved going deep.
Of course, being married to him, I was there behind the scenes during that process, and let me tell you, it was messy. We went through a very dark season in our marriage, with brutal verbal battles that created a whole fresh set of war wounds for both of us. It got really, really bad. But we didn't quit. In the darkest hour of our relationship, Craig made a beautiful video for our 10th anniversary and threw a surprise party for me with about 80 of our closest friends. We renewed our wedding vows, and from that point forward, Craig set the pace for healing in our hearts and our home.
He went on a five-day retreat called Quest to go deeper into his relationship with God, and he came back a changed man. I went on the women's version of the retreat three weeks later, because I wanted what he had. Peace and humility and the ability to listen without judgment. He was loving me so much better – doing the act of love through self-sacrifice – and that just made me want to love him better, too.
He went on more retreats and started nurturing relationships with other amazing men of God who became brothers to him. Four years ago, Craig also discovered prison ministry, and found a whole new set of brothers at the Powledge Unit that he would go to visit every single week.
Through all of this, I saw my husband – the man I already adored – become a mighty man of valor and, like the psalmist David, a man after God's own heart.
Craig LOVED people like no one else. He was raw and authentic – he was funny and goofy and also unafraid to tackle hard issues head-on. He loved ME like no one else. I never could have dreamed of such an amazing husband. But, of course, God knew that. Ephesians 3:20 tells us that He gives us exceedingly, abundantly more than we can ask or think.
Craig had struggled with depression on and off for years, and I was blessed that we were coming off a really good run. The last four years of our marriage were amazing. I have the BEST husband. So, when the depression came back in the spring, I was committed to walking through the season together. It's like a cancer that comes back out of remission. It's not the person's fault that they have cancer, it's something that happens to them.
But depression is more like an autoimmune disease. The body is an amazing machine, and it has systems in place to fight off intruders and keep itself healthy. But, if you have a disease like lupus or fibromyalgia or Type 1 diabetes, those systems turn on themselves. The body starts to attack itself. Depression does that to the brain. It is literally a malfunction – wrong thought patterns that can be exacerbated by a chemical and biological condition in which things are out of order, so that the mind turns on itself.
The disease of depression does not diminish Craig's legacy of LOVE or his lust for life. Craig loved with passion and authenticity. He fought the depression with everything he had – he knew the battle he was facing, and he was absolutely determined to win. But just like with cancer, sometimes we lose.
Craig was the BEST husband, and he loved me SO WELL. He loved me and loved others well because he loved God. If you don't know Jesus – know Him in the way that Craig knew Him and I know Him – I pray that you start today.
One of Craig's last journal entries was Philippians 1:6, in which the apostle Paul writes:
And I am certain that God, who began the good work within you, will continue his work until it is finally finished on the day when Christ Jesus returns.
Jesus is coming back, and He is coming soon, before the great battle begins. I hope you will be with Him in the fight. But until He returns, God will continue to see through the GREAT WORK that He began in Craig Thompson. He will see it through in me and in each one of you.
Jesus gave us two commandments:
Love the Lord your God with all your heart and with all your soul and with all your strength and with all your mind, and, Love your neighbor as yourself.
Craig loved me, and he loves you. Go love better.
July 30, 2018 3 Comments