My husband and best friend — the man who led me to the Lord and who chased fearlessly after Jesus — died on July 6, 2018. His death was the culmination of a decades-long battle with depression. Contrary to popular opinion, depression is not a matter of "wrong thinking," but rather a mental illness that attacks organs of the body — in this case the brain — in much the same way that cancer does. And, like cancer, depression is a treatable disease that often can be managed with medication, changes in diet, counseling, and other methods. Craig fought depression with every fiber of his being, and he recorded a very powerful message about the battle in early June 2018, which he posted on Facebook here. 
Sadly, just like with cancer, depression can come out of remission and render the person helpless. Despite all their efforts and all the treatments, sometimes the disease wins. But, that is no more a reflection of a person's character than if they were to succumb to any other illness. It is time we removed the stigma and talked candidly about depression and suicide. Pastor Ryan Rainey did a brilliant job of addressing the issue at the opening of Craig's memorial service. You can view the full memorial service on Vimeo here. The video below is an excerpt of my portion, when Holy Spirit gave me the words and strength to share the message of love that God wants us to hear. The text version below omits a few parts that God threw in for good measure while I was speaking, so I hope you will watch the video, as well.
Eulogy for Craig Bennett Thompson
By Leslie J. Thompson
In Psalm 139:13 – 14, the Psalmist King David writes:
For You formed my inward parts; You wove me in my mother's womb. I will give thanks to You, for I am fearfully and wonderfully made.
Craig Thompson was custom made for me in every way.
We met in 2003, when he was already 38 years into his life's journey. It had not been an easy one. From the very beginning of our marriage, Craig was transparent with me about his struggles. He never hid his war wounds. But all I saw was an amazing man of God.
Craig was born in San Angelo, Texas and moved to Dallas as a child after his parents divorced. His father was an alcoholic, and his home environment was chaotic at best, traumatic at worst. Craig attended 12 different schools in 11 years, and dropped out of high school in the 11th grade after a guidance counselor told him that he didn't have enough credits to graduate on time. Three decades later, that judgment still weighed heavy on him
Which is incredibly ironic, because Craig is the most accomplished man I have ever met. After serving for six years in the United States Navy – which included three and a half years as a sumo wrestler to help build a cultural bridge between the U.S. and Japan – Craig worked as a private investigator and a hotel security manager, then ventured into the food & beverage industry before transitioning into software sales.
He left his last corporate job to pursue a lifelong dream of becoming a big band singer – because, you know, that's normal and all. And it was as Big T of Big T and the Bada-Bings that I first met him. Those of you who haven't heard the story of how God brought us together, catch me another time. It will rock your world, but it takes about ten minutes and we're on the clock.
Being married to Craig was the most thrilling adventure you could imagine. He was a consummate entrepreneur and we brought to life numerous business ventures he had conceived. We ran a retail store, started an insurance agency, launched two online television networks, then got into website design and mobile app development before diving head first into the drone world five years ago. Craig Thompson was a true Renaissance man.
But the most exhilarating part of all our many exploits was that Craig never met a stranger. He collected friendships every step of the way, and years later still remembered the details of peoples' lives. He was also a natural-born encourager. For all his antics and sometimes off-color sense of humor, Craig loved to make people feel valued. He loved to help people overcome life's challenges and know that they were worth the fight.
And the more Craig matured in his faith, the more he was able to minister to others. The more he walked with God, the more he showed humility – he was able to touch people deep in their heart and soul because he was transparent about the pain of his own journey. People are hungry for authenticity, and Craig loved going deep.
Of course, being married to him, I was there behind the scenes during that process, and let me tell you, it was messy. We went through a very dark season in our marriage, with brutal verbal battles that created a whole fresh set of war wounds for both of us. It got really, really bad. But we didn't quit. In the darkest hour of our relationship, Craig made a beautiful video for our 10th anniversary and threw a surprise party for me with about 80 of our closest friends. We renewed our wedding vows, and from that point forward, Craig set the pace for healing in our hearts and our home.
He went on a five-day retreat called Quest to go deeper into his relationship with God, and he came back a changed man. I went on the women's version of the retreat three weeks later, because I wanted what he had. Peace and humility and the ability to listen without judgment. He was loving me so much better – doing the act of love through self-sacrifice – and that just made me want to love him better, too.
He went on more retreats and started nurturing relationships with other amazing men of God who became brothers to him. Four years ago, Craig also discovered prison ministry, and found a whole new set of brothers at the Powledge Unit that he would go to visit every single week.
Through all of this, I saw my husband – the man I already adored – become a mighty man of valor and, like the psalmist David, a man after God's own heart.
Craig LOVED people like no one else. He was raw and authentic – he was funny and goofy and also unafraid to tackle hard issues head-on. He loved ME like no one else. I never could have dreamed of such an amazing husband. But, of course, God knew that. Ephesians 3:20 tells us that He gives us exceedingly, abundantly more than we can ask or think.
Craig had struggled with depression on and off for years, and I was blessed that we were coming off a really good run. The last four years of our marriage were amazing. I have the BEST husband. So, when the depression came back in the spring, I was committed to walking through the season together. It's like a cancer that comes back out of remission. It's not the person's fault that they have cancer, it's something that happens to them.
But depression is more like an autoimmune disease. The body is an amazing machine, and it has systems in place to fight off intruders and keep itself healthy. But, if you have a disease like lupus or fibromyalgia or Type 1 diabetes, those systems turn on themselves. The body starts to attack itself. Depression does that to the brain. It is literally a malfunction – wrong thought patterns that can be exacerbated by a chemical and biological condition in which things are out of order, so that the mind turns on itself.
The disease of depression does not diminish Craig's legacy of LOVE or his lust for life. Craig loved with passion and authenticity. He fought the depression with everything he had – he knew the battle he was facing, and he was absolutely determined to win. But just like with cancer, sometimes we lose.
Craig was the BEST husband, and he loved me SO WELL. He loved me and loved others well because he loved God. If you don't know Jesus – know Him in the way that Craig knew Him and I know Him – I pray that you start today.
One of Craig's last journal entries was Philippians 1:6, in which the apostle Paul writes:
And I am certain that God, who began the good work within you, will continue his work until it is finally finished on the day when Christ Jesus returns.
Jesus is coming back, and He is coming soon, before the great battle begins. I hope you will be with Him in the fight. But until He returns, God will continue to see through the GREAT WORK that He began in Craig Thompson. He will see it through in me and in each one of you.
Jesus gave us two commandments:
Love the Lord your God with all your heart and with all your soul and with all your strength and with all your mind, and, Love your neighbor as yourself.
Craig loved me, and he loves you. Go love better.
July 30, 2018 3 Comments
If you have ever spent any time on the Internet, you probably know about cookies. Cookies are little bits of code that are deposited into your Internet browser when you visit a website. They include information like which pages you visited, so that the next time you go to that website, the pages load faster. A lot of cookies are pretty harmless, but some of them can insert pieces of code that are unwanted, like programming that pushes advertisements or suggests content that you don't want to see. Those are little monsters that can wreak havoc if you don't clear them out of your system.
In the same way, we all have cookies in our brains. These are bits of information that we carry around with us based on previous experiences. Like a computer, our minds unconsciously load in that data when we come across the same or similar people, places and events as we encountered in the past. Our browsing history in the world informs our present experiences. The problem is that some of those little cookie monsters have made their way into our thoughts, as well, and we need to clear them out if we're going to function properly.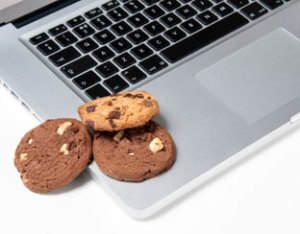 A Familiar Pattern
As an example, I stored away a lot of cookies in my mind and my emotions based on my experiences as a young girl. My parents divorced when I was a toddler, and my father raised me as a single parent until he remarried when I was 11. He tried hard to take good care of me by providing me a safe home and a quality education, and he loved me very much. But he was also pretty far out of his element. See, my father had a short fuse when it came to his temper. He would seem to blow up for no reason. And, as a little girl, that meant I was walking on eggshells because I never knew what was going to set him off. I didn't want to make daddy mad.
Mad was loud. Loud was scary. Angry = scary.
Years later, when I was a junior in college, I rented a house off campus with three other girls. One morning while I was eating breakfast, one of my roommates came storming downstairs to give me a piece of her mind. I don't remember the topic—something to do with her right to have her boyfriend hang out at the house when she wasn't there, I think—but I do remember that she was loud. Really loud. And suddenly, I was six years old again.
I didn't engage in the argument; I maintained a calm demeanor as she vented all over me for a good five minutes. But after she stormed out the front door, I turned into a quivering mass of Jell-O. I was literally shivering for the next hour, my teeth chattering as if the air were 12 degrees, because angry meant scary. My father had unwittingly deposited a cookie in my mind, and it triggered all the old code, overriding my later life experiences or adult reason.
Time to Clear the Cache
We all have those kinds of cookies, the tapes that play in our head that tell us who we are, how we are to behave, and what we are and are not capable of. Because of my upbringing and things I experienced when I was younger, I carried some very irrational fears into adulthood, along with unmerited feelings of shame. Although I am an accomplished woman in both my personal and professional life, I would find myself stricken with near paralyzing pangs of inadequacy at the most awkward times, ruining what should have been fun and exciting occasions for growth.
Over the years, I have looked for opportunities to "clear the cache" in my mind and get rid of those unwanted cookies. Usually, that meant stepping outside of my comfort zone and facing the fear head on. In my 20s, one of those fears was talking on the phone. I absolutely dreaded calling people, especially strangers, for fear that I would say something wrong and sound stupid. My aversion to the telephone verged on a phobia.
Although at the time I was virtually incapable of calling a taxi or ordering a pizza, I did not want fear to keep me from achieving my goals. I decided to take an internship in public relations, which required me to make phone calls every day. I literally used to write out every word of what I wanted to say on a yellow legal pad before dialing the phone, so I could steel myself for the conversation. The process was emotionally painful, but with repeated practice, the task became easier. I relied less and less on my self-invented script and was able to improvise more. Those skills served me in good stead years later, when I became a journalist and frequently had to arrange interviews by phone. Today, I can call strangers without breaking a sweat. I have also learned from my husband how to brighten the day of the person on the other end of the line through humor and a positive attitude, so that making phone calls is no longer something I dread, but an opportunity to be a blessing.
Renewing Your Mind
If you are being held back by fear or self-defeating behaviors, I challenge you to kill the cookie monster. Root out those old tapes and bits of malicious code, and replace them with new information. Ephesians 2:10 says, "we are God's handiwork, created in Christ Jesus to do good works, which God prepared in advance for us to do." Believe God today that you are competent, capable, and perfectly made in the Creator's eyes. Get those unwanted cookies out of your head, and be transformed by the renewal of your mind!
Finally, brothers and sisters, whatever is true, whatever is noble, whatever is right, whatever is pure, whatever is lovely, whatever is admirable—if anything is excellent or praiseworthy—think about such things. (Philippians 4:8)
February 1, 2015 No Comments